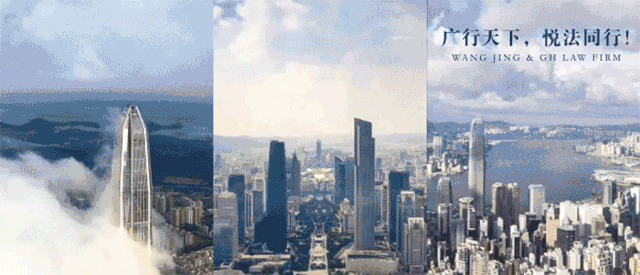 The year 2020 marks the 12th anniversary of Wang Jing & GH Law Firm. It is also a turning point in the history of the Firm. Starting anew from the 12th anniversary, Wang Jing & GH launched a series of deep reforms ranging from development strategy to management mechanism, which have injected new momentum into the Firm's strategy of building a Greater Bay Area commercial legal service platform. Thanks to the Firm's rapid development and outstanding performance in recent years, the Firm has caught the attention and recognition of famous international legal service rating agencies such as Chambers & Partners, Legal 500, Asian Business Law. In the meantime, Wang Jing & GH never stops its exploration of a sustainable development path. After the recent adjustment of the Firm's leadership, at the first Meeting of Board of Directors presided over by Mr. Wang Jing after taking office, the Firm set the new goal of becoming a first-tier foreign-related commercial legal service platform in Guangdong-Hong Kong-Macao Greater Bay Area. In light of the new goal, the Firm made an important decision of establishing offices in Shenzhen and Hainan province as the first move towards entering the legal service market in Greater Bay Area. In future, Wang Jing & GH envisages a series of deeper reforms in various perspectives including development strategy, legal service criteria, marketing and branding, talent team building, etc., to embark on a new journey and make full preparation for serving clients in the Greater Bay Area.
01
Formulating New Vision and Orientation for A Breakthrough and Brighter Future
With the new goal in mind, Wang Jing & GH envisioned the blueprint of the Greater Bay Area, formulated the new vision of "becoming a first-tier foreign-related commercial legal service platform in Guangdong-Hong Kong-Macao Greater Bay Area", the new orientation of "focusing on complicated commercial matters", as well as innovation mechanism and long term development strategies. To stand out in the competitive legal service market in the Greater Bay Area, the Firm made development plans based on our strength and other actual circumstances instead of blindly following the existing approaches.
02
Building and Making Foreign-related Legal Services Our New Development Focus to Assist Clients in Greater Bay Area in their "Going Out" Strategy
This year Wang Jing & GH ushered in Senior Partner Mr. Wang Jing and his elite team members. With their joining, the Foreign-related Service Group is set up in the Firm, covering Foreign-related Civil and Commercial Matters, Cross-border Investment and International Trade, Maritime & Admiralty, Intellectual Property and other foreign-related legal service fields. The Firm will focus on the development of foreign-related legal services, and attract more high-caliber foreign-related legal talents who are familiar with international rules and can practice law at home and abroad so as to further strengthen our cross-border dispute resolution capabilities to ultimately assist clients in the Greater Bay Area in their "going out" strategy.
03
Strengthening Team Cooperation, Developing Diversified Service Modes and Improving Legal Service Quality
In Wang Jing & GH we emphasize the importance of close cooperation between different service groups and the building of diversified legal service modes so as to ensure that the most suitable personnel and resources of the highest standard are pooled together to provide clients with excellent and comprehensive legal services. We believe with the Greater Bay Area development layout and our continued efforts in the context of China's Belt and Road Initiative, Wang Jing & GH will become a more professional and outstanding legal service provider.
04
Setting Up Brand and Marketing Committee to Shape Wang Jing & GH's Brand and Broaden International Perspective
Wang Jing & GH has set up a Brand and Marketing Committee to design and deploy various matters relating to the Firm's brand promotion, market research and development, knowledge management, big data collection, etc. So far the Committee has completed a number of tasks including issuing Chinese and English document templates for use by all staff, upgrading the Firm's official website and opening an international publicity window, etc. The Committee endeavors to provide a diversified platform for clients from different countries and regions to know more about Wang Jing & GH, the Greater Bay Area and beyond China while taking into consideration different cultural backgrounds, language habits, service requirements and other aspects of clients at home and abroad.
05
Cultivating High-caliber Legal Talents Under Belt and Road Initiative Through Opening Youth Training Camp
Wang Jing & GH attaches great importance to talents, cherishes them and cultivates them. This year the Firm published a set of clear talent standards and formulated a training plan for young lawyers, i.e. the "GateWay" Youth Training Camp, where partners, senior legal consultants, external experts or lecturers are invited to give training on a monthly basis to young lawyers in areas including business, brand promotion, big data retrieval, etc. Besides, the Firm actively organized and participated in learning courses including those on the Civil Code, international arbitration rules and cross-border dispute resolution practices as preparation efforts for entry into the Greater Bay Area.
06
Expanding Horizontally and Recruiting Talents to Overcome Hardships and Grow Aggressively with Wang Jing & GH
Wang Jing & GH will continue to expand business by way of cooperation with industry players and endeavor to attract more pioneers in the industry to jointly build a first-tier legal service platform and actively explore the Greater Bay Area and beyond the international market. Shenzhen and Hainan province are the Firm's "bridgehead" for serving international clients. In the face of the new market, new orientation and new demands, while upholding the original management features and strengths, the Firm is eager for talents and sincerely invites like-minded people to join in to build a community with shared interest with Wang Jing & GH in Shenzhen and Hainan and realize the beautiful vision of becoming a first-tier foreign-related commercial legal service platform in Guangdong-Hong Kong-Macao Greater Bay Area.
As a special economic zone adjacent to Hong Kong, Shenzhen is a leading innovative city and the land for venture capital across the country. Today its position as the "core engine" of the Greater Bay Area is increasingly prominent. As for Hainan, it was upgraded to be the biggest Free Trade Port in China at the beginning of this June with freedom and convenience in trade, investment, cross-border capital flow, personnel flow and cargo transportation and safe and orderly data flow. Shenzhen and Hainan are standing at the frontier of China's further reform and opening policy. Their rapid economic development undoubtedly places higher demands on legal services.
Today Wang Jing & GH has gradually set up international mechanism and system for legal services. These mechanism and system can not only allow the Firm to contribute to the strategic planning of Shenzhen to building a legal service hub city in the Greater Bay Area and the speedy development of enterprises in the Greater Bay Area, but can also provide strong legal support for the building of Hainan Free Trade Port. We believe that, in the environment where law firms in the Greater Bay Area, the whole country and even overseas are developing together, it is possible for all law firms to learn from each other's development ideas and remain resolute in pursuing the "going out" strategy so as to make the market bigger and provide better services in an open world like the one today. Therefore, the Firm will deepen communication and exchange with law firms in Shenzhen, Hong Kong and Macao in future. Riding the momentum from the great waves of China's reform in rule of law and taking advantage of the development of the Greater Bay Area, Wang Jing & GH will strive to be a practitioner and promoter connecting the legal service markets in the Greater Bay Area. This is a realistic move making use of the favorable trend of integrated development in the Greater Bay Area for the purpose of realizing our new goal and new vision under the blueprint of the Greater Bay Area.
Today, Wang Jing & GH has set sail on the journey to the Greater Bay Area.
Tomorrow, Wang Jing & GH won't fail clients and friends' expectation. We forge ahead to make the blueprint of the Greater Bay Area in mind come true!