Recently, Mr. Wang Jing, chairman of the board and managing partner, and Mr. Wang Wilson, partner of Wang Jing & GH were invited by The Legal 500, an internationally renowned legal research and rating agency, to write the legal and practical parts of shipping in Chinese jurisdiction, to provide readers with an in-depth analysis of China's shipping laws and regulations and practical experience.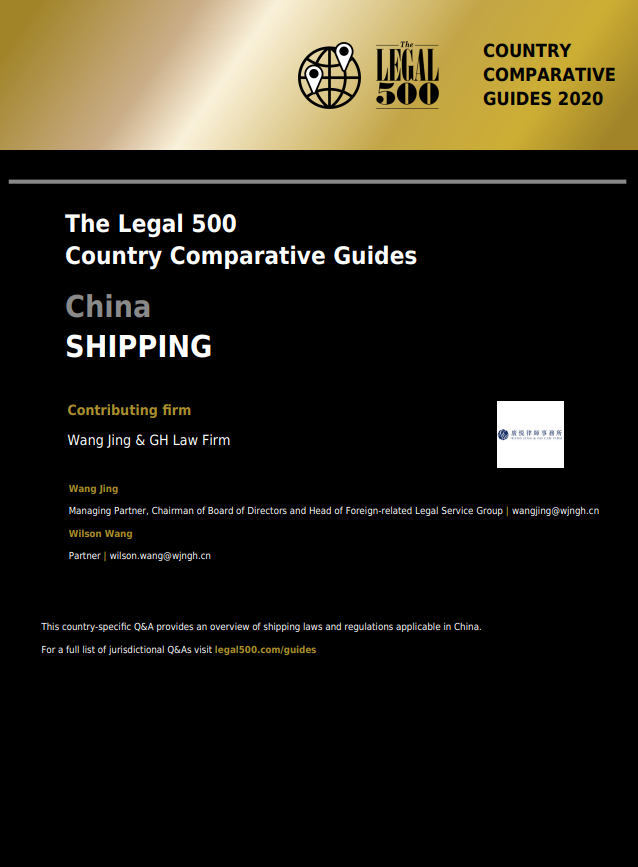 The shipping guide is produced by the world's leading law firms and lawyers, covering hot topics in shipping inthe United States, the United Kingdom, Australia, Japan, and other jurisdictions, and aims to provide corporate executives, legal practitioners, experts, and government agencies with the latest law study and practical experience.
While Mr.Wang Jing and Mr. Wang Wilson were invited to write this guide, the Firm will continue to provide professional services to our clients with its solid legal knowledge and rich practical experience.
The foreign-related team of Wang Jing & GH Law Firm was set up and headed by Mr. Wang Jing, director of the Maritime Law Committee of All China Lawyers Association and top ten lawyers in foreign-related legal practice in Guangzhou. Other team members include Mr. Wilson Wang as the partner and other experts and professionals in foreign-related legal practice. Its maritime and admiralty team provides dispute resolution services, i.e., cross-broader litigation, arbitration and mediation related to vessels, international trade, cargo transportation, import, and export policy and compliance, cross-broader investment/M&A to major shipping companies, brokers, charterers, underwriters, P&I clubs, shipping fund, financial leasing companies, navigation channel engineering companies, trading companies, shipping agents, port operators, and logistics companies, etc. Besides, it also provides legal services relating to the construction, financing, M&A, lease,and compliance review of ports, ships, offshore engineering, shipping fund, and other non-contentious matters.